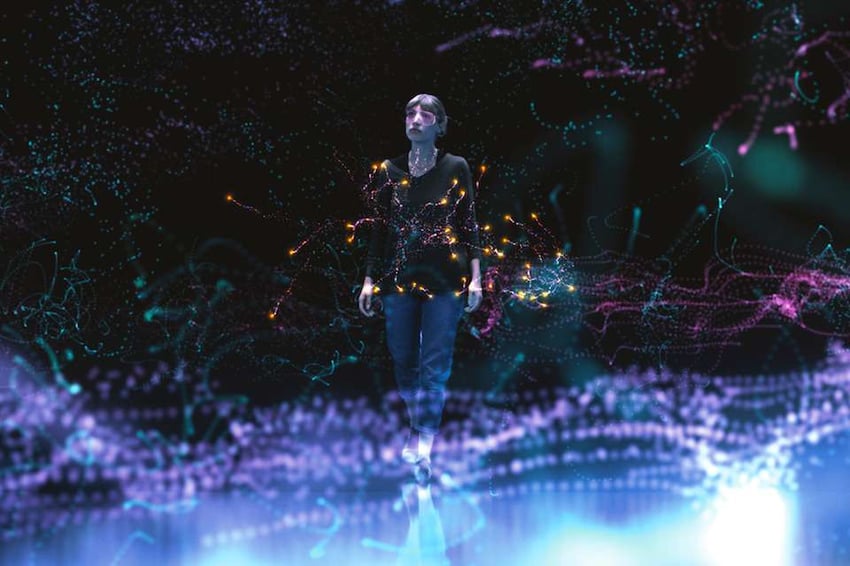 How the metaverse supports learning and behaviour change
As virtual reality proves its effectiveness in applications for education, health and training, we held a panel discussion on 16th March with four experts to talk about immersive technologies, learning and behaviour change.
For the event we invited:
Adam Blumenthal, Partner at Nucco
Adam has been working with virtual reality since 1990. He's produced more than a dozen VR experiences for learning and healthcare with major institutions. He's an adjunct Professor at Brown University where he teaches courses in design for VR.

Faby M. Gagné, Ph.D., Executive Director at SNHU Labs
Faby oversees a team committed to surfacing the requirements needed to prepare SNHU for the future learner by experimenting with emerging technology and new learning models. Faby holds a PhD in Experimental Social Psychology from McGill University. Faby worked with Nucco on SynapseVR, an immersive, active learning experience for a course called Biopsychology.
Suzanne Mitchell, MD MSc, CEO at See Yourself Health
Dr Suzanne Mitchell is a healthcare innovator, consultant and entrepreneur in digital health. She is an accomplished health services researcher with more than $7M in NIH and foundation-funded research completed at Boston University.
Watch the event highlights below or keep reading for the full event write-up!
Suzanne kicked off the event by discussing the value of VR in experiential learning and engagement. She said that in healthcare, immersive learning environments are invaluable because they allow people to experiment with behaviour change and improve support for self-management of conditions such as diabetes.
From an education perspective, Faby said, "the promise of virtual worlds provides the ability to teach and assess complex skills on a greater scale." She stated that virtual worlds allow educators to incorporate several technologies together to create rich, authentic and formative learning experiences.
To a question centred around the value of avatars in virtual environments, Suzanne stated that avatars are at the centre of a therapeutic virtual experience. By enabling avatar customisation, users can create an attachment that mediates the experience with others. She touched on The Proteus Effect:
The proteus effect: Describes a phenomenon in which the behaviour of an individual within virtual worlds is changed by the characteristics of their avatar.
For Faby, virtual worlds should be designed around concept understanding. She stated that engaging subject matter experts in the design of the experience is a great way to ensure the experience is built with the students in mind.
She added that it's essential to recognise that immersive learning experiences aren't replacing textbooks:
"Virtual experiences in learning are about augmenting what we already do, rather than replacing traditional teaching methods."
Adam then moved the conversation onto measuring outcomes and behaviour change within virtual world experiences.
Faby kicked off by stating that for Synapse VR, understanding how to implement VR within an educational setting was a key metric, so they engaged in feasibility research studies. These studies measured satisfaction, practicality, and how instructors react to the experience.
Suzanne stated that comparative effectiveness research, understanding the technology and engagement were key performance indicators in her experience. She said that it was essential to hold themselves to a high bar to ensure they were still reaching the high standards of patient care.
Adam asked, "What are some of the things you've heard from your users - patients and learners - that excited you about your work in this field, or that helps you realise the potential for virtual worlds?"
Faby added that many positive results have come from SynapseVR. She said that VR experiences allow students to move away from linear experiences and enable them to reengage with educational materials more than once.
Suzanne stated that one of her favourite bits of feedback from a patient has been that "their avatar is the change they want to see" and "this is our avatar family", which speaks to the social connection you don't usually see without an immersive presence.
To finish up, our panellists summarised that when creating virtual world experiences it's vital to:
Ensure that VR is the right fit
Understand your users, how they train and their budgets
Understand that developing VR experiences require very specialist expertise
Plan to do a lot of testing
Use trial and error
Understand that creating virtual worlds within a tablet or a laptop can be more accessible to a broader user base
Within healthcare, immersive technology is still relatively new, and so it could take longer for senior practitioners to accept VR or virtual worlds as a credible tool
Cloud streaming can help reach wider audiences
Virtual worlds can help provide a bridge to the metaverse, and there are an ever-increasing number of proven case studies in applications for education, health and social impact.