5 TIPS TO MAKE YOUR VIRTUAL EVENT ACTUALLY ENGAGING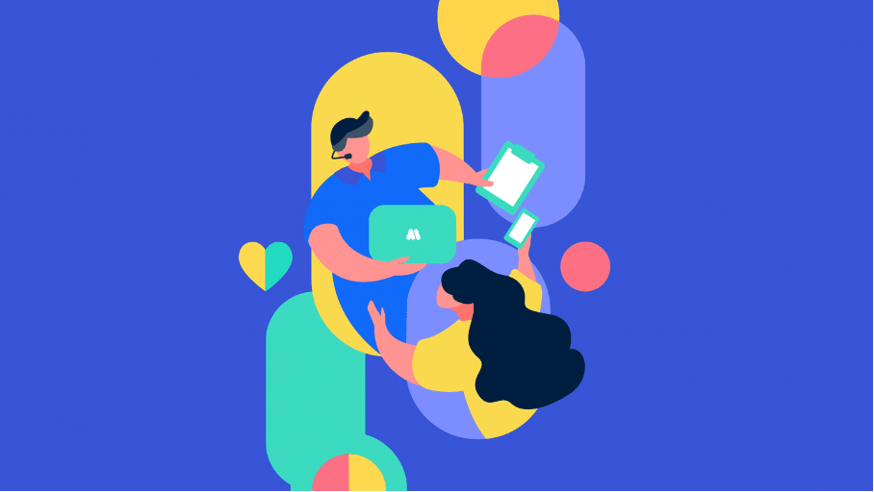 Take the format of your annual conference and add a zoom call, right?
Simply converting your annual conference to the world wide web won't automatically create engagement and excitement. But don't worry, your virtual event doesn't have to be complicated to be a success— it just has to be memorable.
Before you take your event online, here are some ideas to consider to keep your audience engaged and excited:
1. Align your content with your audience's mindset
One of the most important aspects of a virtual event is delivering insightful content that holds your audience's attention. Because, let's never forget, with virtual events, attendees are only a mouse click away from leaving. Start with making sure your content matters to your audience.
In the McKinsey report on The Next Normal: Trends That Will Define 2021, they say "barring any unexpected catastrophes, individuals, businesses, and society can start to look forward to shaping their futures rather than just grinding through the present."
Is the content you plan on delivering inspiring and in the spirit of rebuilding the future rather than just surviving in the past many months? What do they care about today, and what will they care about in the next six months, beyond the pandemic?
Curating content that aligns with what they value, what they care about, and the problems they are looking to solve is the best way to create engagement.
2. Get creative with your delivery
Finance and professional services are some of the most discerning audiences out there. To keep their attention, your content needs to deliver. A successful conference needs to go beyond traditional storytelling. Create a universe of stories that the audience can connect with that uses your brand story as the central theme.
Most content uses a linear structure of storytelling; establish a hero, undertake a journey full of obstacles, succeed by achieving the goal by the end. Take this content idea a step further. Don't stop the story at the end of the journey. Tell the story from many angles, including the final destination.
Think about ways to create engagement that will get your audience involved rather than just passively consuming content. Here's a list of ideas to get your creative juices flowing:
Create opportunities for the audience to participate in discussions.
Gamification can be used to create engagement that isn't dependent on everyone being online all at once.
Use smaller sessions for breakout groups, and offer up fun rewards during these sessions.
Consider treating your event as a short course. Reward learning through each 'module' your audience attends.
Consider your host carefully. Getting the audience hooked on your story starts with masterful delivery.


3. Choose your channels carefully
Switching the medium of your annual event changes everything. There is a wide range of channels to choose from, each with its own pros and cons to consider. However, it's important to use a channel, or channels, that your audience feels comfortable within and will actually take the time to engage with.
Here are some pros and cons of the most common channels and ones we've seen success in:
Zoom
Pro: Using Zoom may be the perfect venue to host a small event, or if you plan to utilize the break-out session function and elicit collaboration and engagement. The trick to a successful Zoom event is planning a creative program that promises more than just passive engagement.
Con: Zoom fatigue is real and should not always be considered a replacement in itself for an in-person conference.
LinkedIn
Pro: In the financial space, attendees are likely to be highly engaged with Linkedin—they're already there!
Con: However, that doesn't mean that live discussion is your only option. On-demand content to be seen on a viewer's own time can be a really successful engagement tool.
Youtube
Pro: Live videos, engaging chat, and opportunities for questions make Youtube a great option.
Con: However, fintech brands should consider whether the channel is the right option for their brand. It could be more appropriate for fun, quirky organizations as the platform itself has a less professional feel than Zoom or LinkedIn.

Instagram
Pro: More companies in the B2B space are jumping on Instagram live. It has a broad reach, has a low barrier of entry, and makes sharing hosting capabilities and sharing long-form content easy.
Con: Conversations can be hard to manage and are generally open to anyone who stumbles across your broadcast. Consider live monitoring of comments.
VR
Pro: Virtual reality can be a great way to showcase ideas and really create a world that sells your story. There are many different platforms that you can utilize from Oculus, to Vive, and even YouTube with Cardboard.
Con: However, it isn't always easy to get right. Consider whether VR fits into your content strategy before choosing this medium as it can be quite pricey and time-intensive.
Bespoke Experience
Pro: Creating your own platform is truly the only way to get exactly what you want and need. With a custom platform, you'll be able to have complete control—create a custom experience with creative freedom, fully integrate with your CRM, have detailed data collection, and be able to customize each individual event.
Con: While you'll have complete control, it takes time and could be expensive to build your custom platform, as opposed to using an off-the-shelf channel.
Case Study: Here at Nucco, we recently created a custom website-based digital experience called Insights Unlocked for USB in which visitors could access financial experts' insights while learning more about their customers. Check it out here.
4. Promote your event the right way
The beauty of going digital is that it's easy and cost-effective to create snippets of easily digestible content. Invest in video. It's far more engaging than static types of content.
Use these original pieces of content as pre-promotion. Reach out to influential people in your industry and get them on board to widen the audience reach. Just like your main content, promotional content should be insightful and engaging. Ask questions, respond to comments, and get your audience involved in the hype.
Promote your format—shorter sessions, snappy videos, rapid-fire Q&As that dig deeper into the topics your audience cares about will ensure that audiences don't feel bored at the thought of sitting through your content.

5. Follow up with post-promotion
Digital events don't have to follow the same rules as in-person ones. Consider extending the life of your event by allowing content to exist online for a limited time.
Share insights from the event, including opinions and lessons from those who attended—maybe even an abbreviated recording of the event only available for a short time. Don't just focus on what your content brought to the table but how that sparked broader conversations.
Once the event is over, and all content tied up, ask for feedback. A gamified feedback system makes this more enjoyable for attendees. Learn about what resonated with your audience, what didn't work, and where you can improve.
If you're looking for ways to make your annual conference, next training, or webinar insightful, engaging, and memorable, Nucco is here to help. We've worked with a range of global brands in finance and professional services on delivering successful virtual events. Get in touch.