GOING VIRTUAL: PITCHING VR TO YOUR INTERNAL STAKEHOLDERS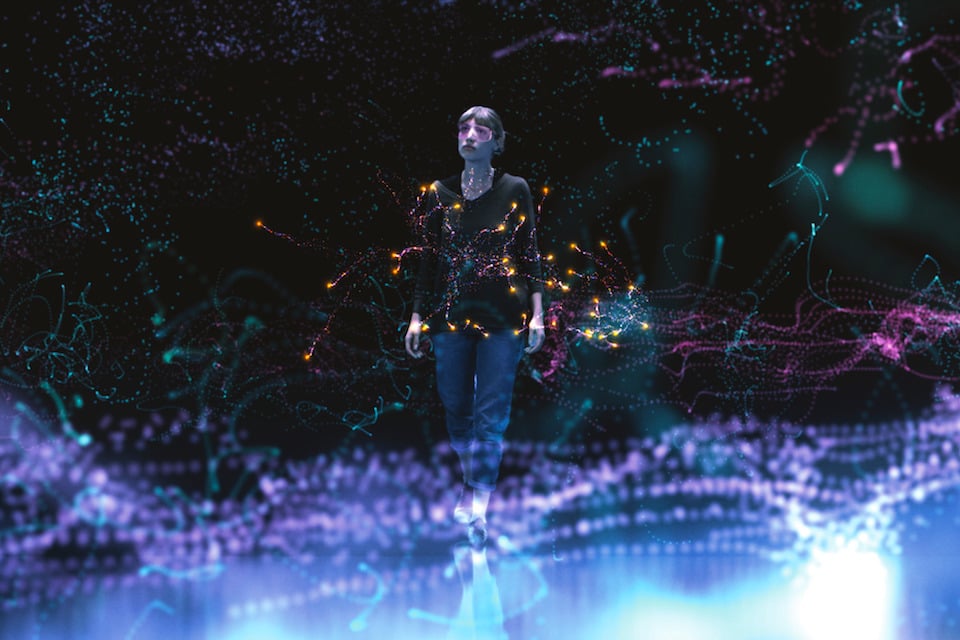 Find out how VR can give your company a competitive advantage.

If you're a marketing, communications or learning and development manager interested in future trends, chances are you're pretty au-fait with virtual reality and its potential to supercharge your digital strategy – both external and internal. But for the perspective of internal stakeholders within your company, the link might not be so clear.
Virtual reality is associated with video games and training pilots in simulators, sure, but marketing? Not so much. It's not all too surprising: virtual reality is relatively new in the world of marketing, and its potential is largely untapped. The recent pandemic has highlighted the need for strong digital resources – companies have relied on digital to keep them in business from afar. Access to all areas of digital – including VR – has never been easier, with headsets and other equipment becoming cheaper and easier to use. Incorporated in the right way, VR provides an encouraging ROI, thanks to its long-term impact.
If you're on a mission to convince your internal stakeholders of the benefits of VR, this article provides pointers and facts to back up your argument when you're competing for a slice of the budget.
Clear Up Confusion
The first step in converting stakeholders into VR aficionados is to ensure they understand the difference between the different forms of extended reality: virtual reality, augmented reality, and mixed reality. Each form holds potential for internal and external marketing, but each has a different application. Virtual reality comes into its own for training and educational uses, whether that's in high-risk industries, high pressure events, or in school classrooms.
Let the Numbers do the Talking
Investing in virtual reality, whether it's for training, for marketing purposes, or anything else, is a surefire way to stay ahead of the competition. Decision-makers across the world are waking up to the benefits of virtual reality: worldwide spending on augmented and virtual reality combined is forecast to hit $18.8 billion, a 78.5% increase on 2019. On training alone, International Data Corp expects spending of $2.6 billion. Taking a closer look into industries like e-learning, VR provides a good ROI because it's both more effective and longer lasting than traditional teaching methods. If you're hoping to convince stakeholders to invest in VR for internal training, you'll be glad to know that employees who receive training through VR are 275% more confident in applying their new skills. They're also 4 times more focused than peers who learned in a classroom, meaning it's 4 times faster to train those employees. When it comes to training employees, VR is the way forward.
Nucco saw the benefits of VR in education through our work with Arizona State University when we created a virtual reality experience bringing to life the events preceding the American University. VR is by nature totally immersive, and the education tool allowed students to experience the next best thing to a time machine, learning key history in an engaging way.
Demystify Complicated Topics
Virtual reality allows us to go places no human has gone, and to 'see' things no human has seen. The possibilities are quite literally endless, whether you want to experience the distant past, travel to the future, or enter an imaginary universe. As far as technical businesses are concerned, virtual reality is also a handy way to help stakeholders and the general public get to grips with incredibly complex topics. Whether you're looking for investment and want to convince venture capitalists of your idea, or you're an established corporate hoping to communicate what your business actually does to the wider world, VR can help.
EDF Energy approached Nucco looking for help explaining the complex science behind nuclear energy to both their stakeholders and the public. In order to demystify the notoriously complex concepts, Nucco created a unique 360° VR experience taking viewers on a journey inside a nuclear reactor – a journey that would be impossible without the help of virtual reality. In the experience, viewers shrink to the size of an atom, witness nuclear fission, and emerge with a much clearer picture of the process of producing electricity.

Increase Employee Safety
The benefits of virtual reality aren't just monetary: if your company focuses on a high-risk industry like security, offshore mining, or construction, VR can actually help make your workplace safer. When you're training employees for one of these industries, maintaining the attention of your audience is vital. Traditional textbooks might contain all the information they need to know, but our modern brain's ever-decreasing attention span can't retain information in traditional formats in the same way.
In fields like offshore wind farming, it's almost impossible for new recruits to understand the nature of their new workplace. Cramped workspaces, loud noises, and uncomfortable living quarters are just some of the things offshore wind staff must grapple with. Even if an employee has been hired and trained, the company still runs the risk that they will arrive at their new workplace and realise it's not for them. Enter virtual reality. VR experiences allow high-risk industries to train staff members in a safer way – accidents don't have real-life effects if they happen in a virtual world. Even so, the VR experience still mimics the pressure the employee would feel in that situation, meaning they can get to grips with the workplace without the safety risks.
Nucco Brain worked with mining firm Anglo American to create an immersive virtual reality experience for new employees, teaching them about the hazards of their new workplace, and educating them on the necessary safety procedures. If you work in a high-risk industry, safety is of the utmost importance to stakeholders – so VR should be examined as a potential aid for training.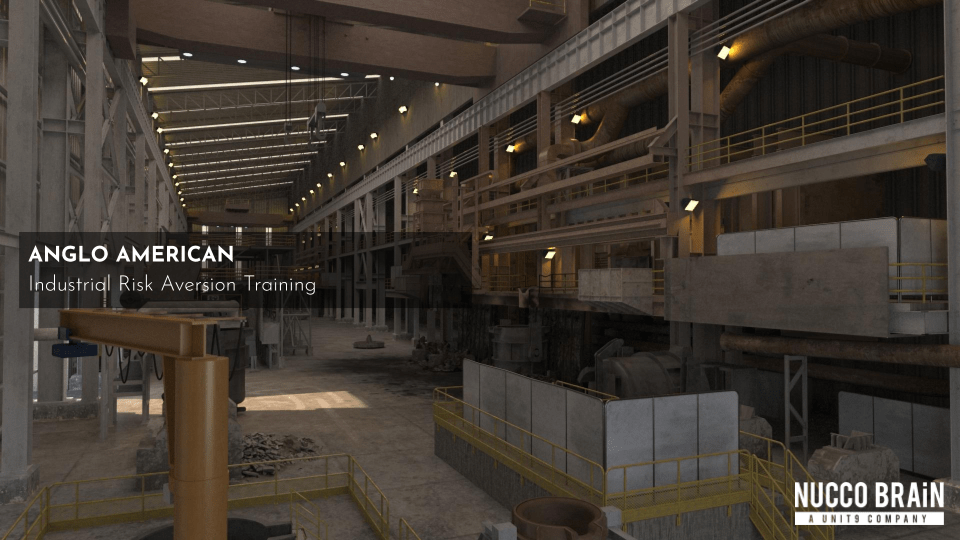 Anglo American | VR Environment
Explore the Limitless Possibilities
Within the coming years, virtual reality will likely become a must-have for companies at the forefront of every industry. The potential of this relatively new experience knows no limits, and VR will soon appear in every facet of our lives. It's always overwhelming to consider investing in new technology, but VR should be looked at as something fun and exciting. Whether your company wants to bring its history to life, travel into the future, or take viewers into the inner workings of a mine, VR makes that possible.
If you'd like to find out more about how you can leverage VR for your organisation, get in touch here.