LEVERAGE VIRTUAL REALITY: ADVANCE YOUR BUSINESS TRAINING WITH VR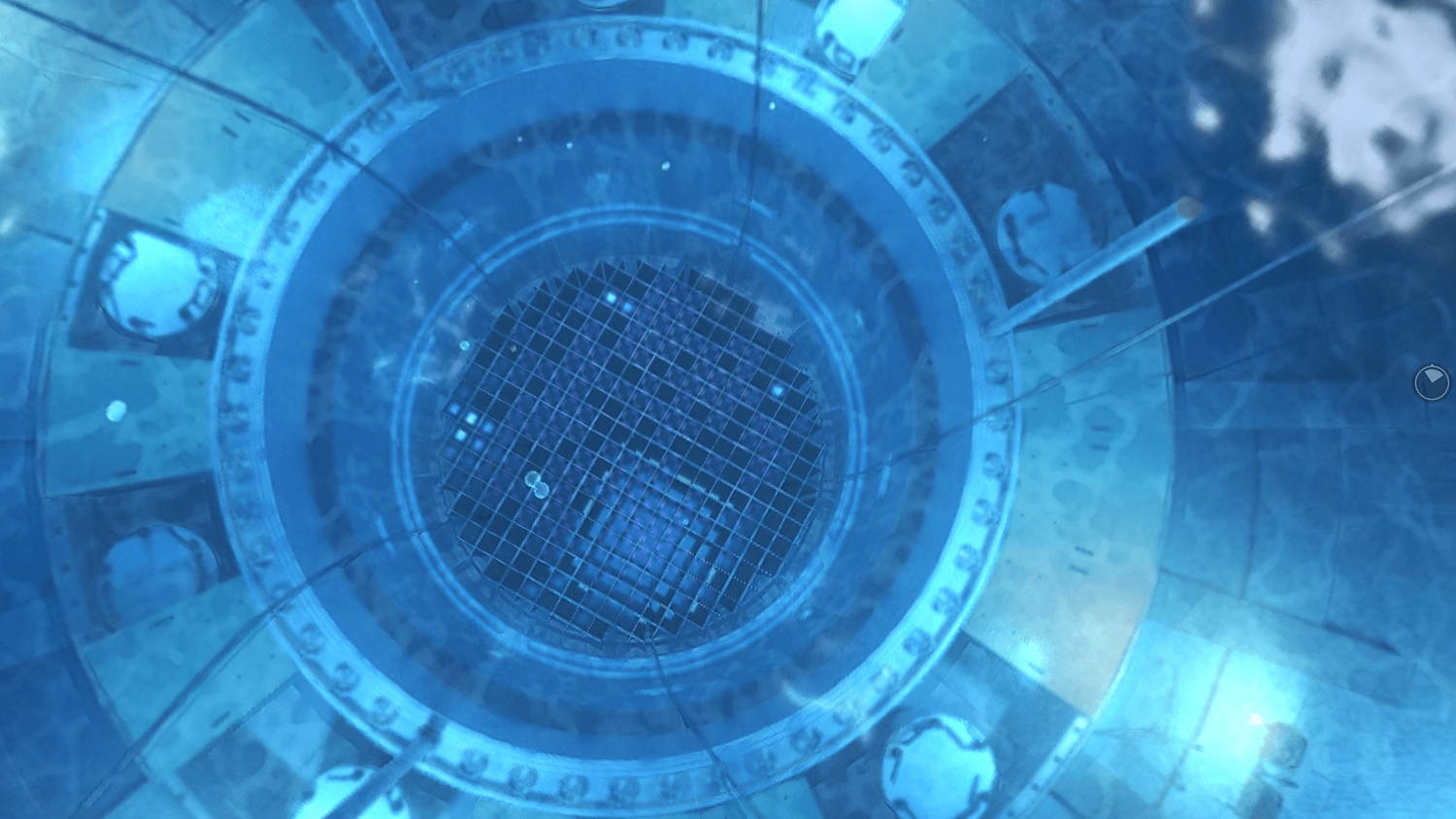 A summary of the use cases for VR in numerous industries.

Words like virtual and remote have been making their way into our lexicon, long before COVID-19 turned even the most resolute office-lovers into work-from-home-ers.
Like it or not, our world is slowly transitioning into one where you can visit the doctor, take a music lesson, and visit an art gallery – all from the comfort of your couch. Beyond the comfort-related benefits, virtual reality presents a number of convincing benefits for employee training in high hazard industries.
At our April event, we got together a group of experts with experience in putting VR to good use in a number of industries. Joining us, we had Jason Lovell, Head of Strategy VR/ AR at PwC, Ross O'Brien, NHS Foundation Trust Digital Innovation Director, Adam Beardmore, Centrica Storage Business Development Lead, and Adam Blumenthal, Nucco Vice President. Read on for a glance into what our experts discussed.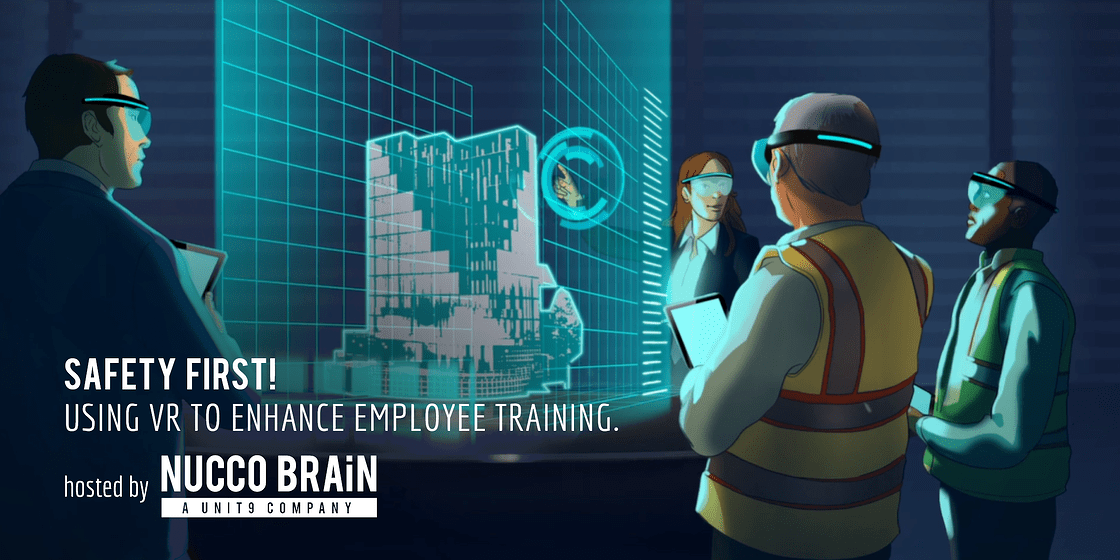 Nucco Event | Using VR To Enhance Employee Training
In our daily lives, the average person is perhaps best acquainted with virtual and alternate reality through social media filters that distort the face, turning us into puppies, aliens, and/or Kim Kardashian. What they might not know is the difference between AR, VR and XR. Virtual reality (VR) is fully immersive and replaces what you're seeing with something else, while augmented reality (AR) supplements what you're currently seeing, adding in something like a filter. Extended reality (XR) is the umbrella term used to encapsulate all forms of distorted reality, including VR and AR. And while corporations across the globe are racing to implement virtual reality (VR) into their process to gain a competitive advantage, it's important to note that the value of immersive learning is nothing new.

Innovate UK || Audiences of the Future
Take flight simulators, for example. The first model appeared around 1929, soon after the invention of the aircraft, and helped trainee pilots familiarise themselves with the high-pressure work environment without putting themselves in danger. Similarly, in the present day, VR provides a convincing first step in enhancing employee training, with high hazard industries especially standing to gain from developments.
Industrial risk aversion training comes with the caveat that there is a limit to just how realistic you can make a training scenario. With virtual reality, however, the possibilities are boundless. Available technology is now so advanced that it can even measure and compute the emotional state of trainees, and adjust the scenario accordingly. The software keeps track of emotions throughout the training, and enables conversations during the simulation.
VR has significant potential for employee wellbeing, by offering fully immersive escapes. Ross O'Brien shared how XR was used during the Grenfell tragedy to ensure the mental wellbeing of staff. "In the early days of the response to Grenfell, our staff were extremely stressed and anxious […] and giving them a headset to give them some time and space away from the patients in a busy NHS environment was something that they really appreciated". And it's not just anecdotal: "We did some small scale studies and found that their heart rate reduced, and generally they were less stressed," explained O'Brien.
Another example of this is Nucco's work with global mining firm Anglo American.
Typically, trainees are partnered senior members of staff who must juggle their job alongside training the new recruit. In high hazard industries, this distraction could pose health and safety risks, while VR simulations would allow satisfactory training without sacrificing safety standards. There's also time and money at stake.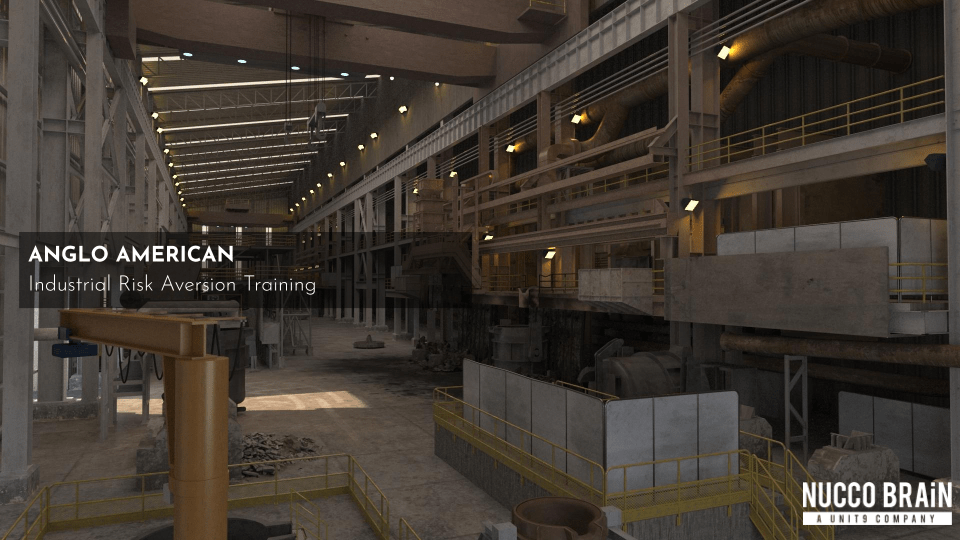 Anglo American | VR Experience
If you've never lived on an offshore oil rig, it's understandably difficult to imagine what it would be like. You can't fully understand the extent of the confinement, the high pressure environment, and the incessant loud noises you'd be faced with on a daily basis: textbooks can only get you so far. Enter VR. Simulations allow potential recruits to 'walk' around the site, experiencing the cramped conditions and engine noises, and this allows them to get a better feel for if they'd be able to handle it on a permanent basis. Adam Beardmore gave the example of offshore workers who've never been in a helicopter before, and as soon as they're in the air, decide that this career path isn't for them. "What we saw with VR is that it helped people try it out first […] and also helps them to picture themselves on-site." Beardmore pointed out that the plants are massive structures, and that VR can help people to get their bearings by going for a virtual walk around and identifying the various parts of the plant.
VR bypasses the issues inherent to off-shore work environments, and also allows for accelerated training. Researchers at the University of Maryland have proven that we are better able to retain information presented to us through VR, as opposed to traditional online teaching methods – so investing in VR training now will help speed up the training process for future employees. Adam Blumenthal discussed Lifesaver, an immersive experience for high school students that teaches the basic skills of CPR. "The experience puts learners in a first-person perspective that immerses them in an emergency situation […] and there was a significant increase in knowledge retained six months after the training amongst participants who used VR, and interestingly, a significant increase in participants' confidence level in performing CPR."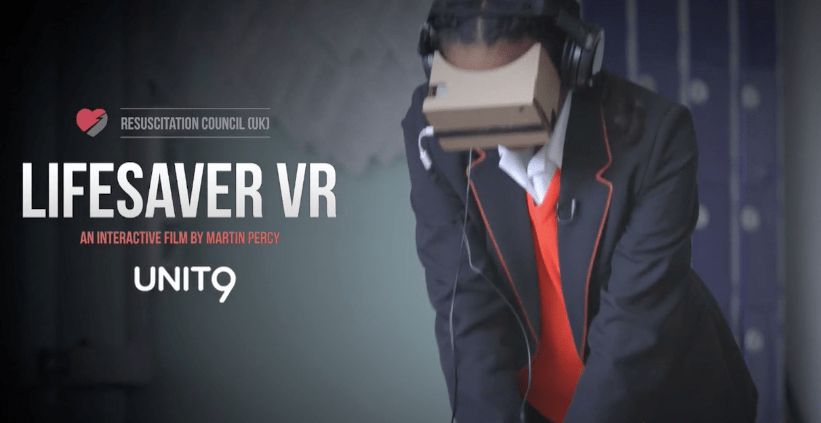 Unit9 | Lifesaver VR
It's fair to say that COVID-19 has accelerated the rate of VR use in our daily lives, and it looks likely it will be here to stay in its various incarnations. To get the most out of the potential that VR holds, Jason Lovell noted that "it's about working out what are the core mechanics of the medium, and what can the medium do above and beyond any other. What is its power?". If you're looking to harness the potential of VR for an internal project, there are a few considerations to keep in mind. The field is broad, so it pays to have a sector expert on board who can advise on the potential uses of VR in your industry. The complexity of the ideation and implementation process for internal VR projects can't be understated. While VR holds immense potential for employee training, working with a partner company who can guide you through the process is key for success.
Want to learn more? You can check out the live stream of our event here.
Looking for a new creative partner for your projects? Talk to our experts today.
You can see what events we have coming up and secure your tickets here.